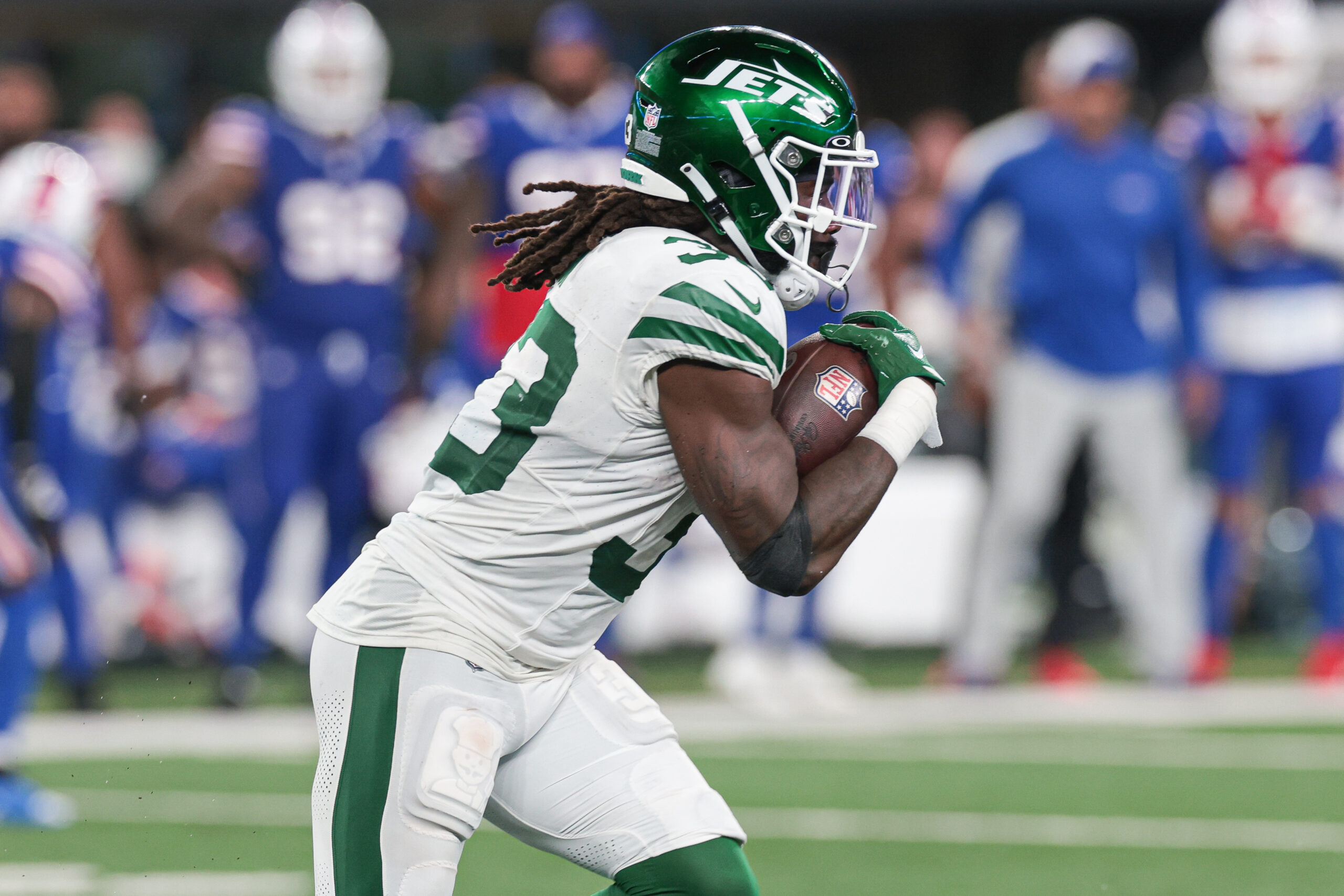 Vincent Carchietta-USA TODAY Sports
⎯⎯⎯⎯⎯⎯⎯⎯⎯⎯⎯⎯⎯⎯⎯⎯⎯⎯⎯⎯⎯⎯⎯⎯⎯⎯⎯⎯⎯⎯⎯⎯⎯⎯⎯⎯⎯⎯⎯⎯⎯⎯⎯⎯
Dalvin Cook has now publicly stated how frustrated he is with his carry counts, and has put it as an excuse as why he is underperforming. Cook, who was only given 3 carries in last games win vs. the Eagles, has him dissapointed and said that Cook will meet with his agent and Jet's GM Joe Douglas for the possibility of a trade.
"It's something I can't control, that my name is being floated around in trade rumors," he said. "It might be a good thing. Maybe [it's] a bad thing."
People might look at this as a good thing though, as snap counts can open up for RB Michael Carter, and even activating rookie RB Izzyl Abanikanda, who showed some sparks in the preseason. Currently, RB Breece Hall is leading the league in yards per carry this year at 6.5 yards while Dalvin Cook ranks dead last (44th out of 44 qualified RBs) at 2.8 yards per carry.
"I'm an honest person, man. I work. I want to play. That's just anyway. And, yeah, it's frustrating. It's new for me. I come from getting the ball 20 times a game, or however many times. Of course it's frustrating. It's something that I've been adapting to."
Cook believes he is still the same player he has been his whole career, still that same 4x Pro-bowler, four straight 1,100-yard-rushing-seasons type of player. He is used to being the main guy, but that role has not been available as RB Breece Hall is having a breakout year.
Cook originally signed with the Jets to add depth as nobody knew Hall would be the same after tearing his ACL last season at the Broncos. Cook had his most touches this season in the season opener vs. the Bills, where Hall's snap counts were limited as the Jets were playing it safe. Now that Hall is fully activated, they will be utilizing him way more.
Nobody knows for sure what will happen, as we should find out in this upcoming week, and maybe it depends on his performance this week against the 2-5 New York Giants who have let up the 4th most rushing yards in the league this year. If we don't find a trade partner, Cook may be cut, while looking at his laughable contract signing a 1-year $8 million dollar deal. Do you think Cook will be traded? And if he does, where?
Make sure to follow my Instagram for daily Jets news - @jacksontalksjets
Make sure to follow my Twitter/X for daily Jets news - @jacksontalksjets