Just a few weeks ago, everyone thought the Jets would draft a cornerbackor wide receiver in round one. Since then, they have added promising corner Antonio Cromartie and Super Bowl XLIII MVP Santonio Holmes. Many other moves have been made around the league including the Redskins getting Donovan McNabb, the Miami Dolphins acquiring Brandon Marshall, the Ravens trade for Anquan Boldin, and many other transactions. So many changes have occurred since my last mock draft, and now I've taken a look back and have re-done it. Here's my second stab at this year's draft, but this time, I've added round two, and have omitted some detail. Here it is, enjoy:
Round 1
1 - St. Louis Rams - QB Sam Bradford
A fairly straight-forward pick here. The Rams need a franchise QB and need to put some butts in the seats; Bradford can do that with his skill and potential to be a great QB for years to come with a strong, accurate arm, and the heart and desire of a champion. His only downside: his recent shoulder injuries from last season.
2 - Detroit Lions- DL Ndamukong Suh
The Lions will most likely have to choose between Suh and Gerald McCoy. Detroit could use a defensive playmaker who can effectively get to the quarterback and Suh specialized in pass-rushing. Suh, in my opinion, as well as countless others', is the best overall player in this draft. This a basically a no-brainer and Jim Schwartz would love to have him. Their is virtually no downside for Suh.
3 - Tampa Bay Buccaneers - DL Gerald McCoy
Gerald McCoy could potentially be the better of the two top defensive linemen. He is a big man who also specializes in getting to the quarterback as well as being able to stop the run. He can be a force at nose, but he might have to gain a little weight. Otherwise he'd be ideal in a 4-3 defense.
4 - Washington Redskins - OT Russell Okung
After releasing offensive lineman Randy Thomas and the retirement of Chris Samuels, the 'Skins will need some linemen to protect new acquisition Donovan McNabb. Okung is one of, if not the best linemen in this draft. He'd most likely play at left tackle to protect Donovan's blind side. He is another player with no noticeable flaws.
5 - Kansas City Chiefs - S Eric Berry
Berry is a phenomenal ball-hawk who is a hard hitter as well. Some NFL scouts believe he is the best all-around defensive player in this draft. Some think he can be the next Darren Sharper. His one possible weakness is his size, but at 6' and 210 lbs, I wouldn't be deterred by that at all. He is a top talent that the Chiefs probably won't pass up if he is still available.
6 - Seattle Seahawks - OT Trent Williams
The Seahawks are speculating that left tackle Walter Jones will be retiring and they will need a tackle to fill in for the 9-time Pro Bowler. Williams is a very big, strong tackle who appears to be one of the best. Teams saw exactly what they wanted from him during the combine and his pro day. Pete Carroll would need him for his ailing line.
7 - Cleveland Browns - S Earl Thomas
The Browns recently aquired corner Sheldon Brown from the Eagles and with young corner Eric Wright alongside Brown, their cornerback duo is a very good one. Many originally thought they'd go after Joe Haden, but they don't need a CB from the 1st round anymore. A safety who can do it all like Thomas would greatly help Eric Mangini's pass defense. One issue to watch is his weight/health
8 - Oakland Raiders- CB Joe Haden
Joe is a fast, athletic corner who can make plays on the ball. And as we all know by now, the Raiders love fast, athletic players, despite their lack of actual football talent (i.e. Darrius Heyward-Bey). However, Haden is actually a really good cover corner and if he's available, the Raiders should draft him to play with Nnamdi Asomugha. But, he has given up some big plays in his career at Florida, something to watch.
9 - Buffalo Bills- OT Bryan Bulaga
Bulaga is a talented offensive lineman who can play at left guard or left tackle. He is from Iowa and that alone makes him an attractive prospect. He stands at 6' 5" and 315 lbs. He is powerful and explosive blocker who could help this woeful Bills' line who was among the worst in the league last year.
10 - Jacksonville Jaguars- QB Jimmy Clausen
The Jags are looking for a suitable replacement for David Garrard, an average NFL QB. The Jags are supposedly high on Clausen and would love to see him in teal and gold. He would compete with Garrard for the starting job, and would not have to start right away. Plus, he'd sell seats so they wouldn't have to have blackouts. The Notre Dame QB is very accurate with a good arm, but he has off-the-field problems and scouts don't like how small his hands are.
11 - Denver Broncos- WR Dez Bryant
After trading away WR Brandon Marshall, the bucking Broncos will be looking for another play-maker, maybe one that doesn't hate Josh McDaniels... Yet. Bryant has all the tools to be a superstar and go-to-guy for either Brady Quinn or Kyle Orton. They'll need help if they want to be effective on offense as Eddie Royal and Knowshon Moreno are their only real weapons left.
12 - Miami Dolphins - DT Dan Williams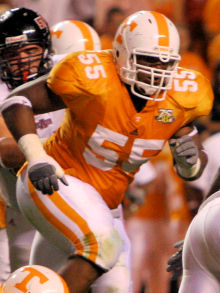 The Dolphins signed Karlos Dansby, so a LB like Rolando McClain isn't needed. And after trading for Marshall, a receiver isn't a 1st round priority either. With DT Jason Ferguson being suspended for 4 games this coming season, and because he is already 35 years-old. Williams was a very effective nose tackle in Tennessee, and could anchor a defense in the NFL.
13 - San Francisco 49ers- G Mike Iupati
The Niners are looking to upgrade their O-line so they can protect often-sacked QB Alex Smith. They have a solid young team, but need help in some places, the line being one of them. Iupati is being touted as the best guard in this draft and is very physical. However, he scored low on the Wonderlic test and that could show how well he can learn plays and recognize defenses and that is something to note.
14 - Seattle Seahawks - RB C.J. Spiller
Spiller has a very good chance of falling to the teens in this draft because not many teams have an immediate need for a running back. But, the Seahawks are one of those few teams. Spiller is very, very fast andcan make defenders miss tackles. He can return kicks and punts as well. He has the makings to be Chris Johnson 2.0, but personally I don't know if any back could live up to that, but he could very well be a top back in this league.
15 - New York Giants - LB Rolando McClain
The Giants are in need of a linebacker after releasing Antonio Pierce and I'm thinking Chase Blackburn isn't the ideal starter for them. McClain is a linebacker who I compare to the likes of the late Derrick Thomas. He can a pass-rusher while controlling the run-game and leading the defense. He has great potential andcould help turn the Giants defense back around.
16 - Tennessee Titans - DE Derrick Morgan
While the Titans added LB Will Witherspoon, they still need help replacing Keith Bullock, Kyle Vanden Bosch, and Albert Haynesworth. Morgan is a terrific pass-rusher who could fit in well with Jeff Fisher's system. He had some really good years in Georgia showing his ability to sack the quarterback.
17 - San Francisco 49ers - DE/LB Brandon Graham
Graham is a top outside linebacker in this year's draft and has the makings to become a star pass-rusher, he's big at 6'2" and 250 lbs, he's fast (ran a 4.65 40-yard-dash), and he played alongside Jets linebacker David Harris at Michigan. He's another powerful LB who can both get to the QB as well as stop the run up front. He is a top pick in this draft and can definitely be a great pass-rusher playing with Takeo Spikes and Patrick Willis. He could play DE opposite newly acquired Travis LaBoy.
18 - Pittsburgh Steelers - CB Kyle Wilson
The Steelers haven't really had success in the past couple of years drafting a cornerback drafting William Gay and Ike Taylor, both who are okay DBs. Wilson would probably intrigue the Steelers as he is a renowned hard-hitter as well as a shutdown corner in college. He has drawn some comparisons to Darrelle Revis, while that may be a stretch, he has great talent and upside. Also, he can replace Santonio Holmes when it comes to punt returns.
19 - Atlanta Falcons - DE/LB Sergio Kindle
John Abraham and Curtis Lofton need help on defense in Atlanta. The Falcons have added free agent Dunta Robinson, so a corner isn't a 1st round concern, but getting to the quarterback is. Last off-season they lost Keith Brooking to the Cowboys and Kindle could help fill in for him. The Falcons need help on defense, especially if they want to compete in the NFC South against Drew Brees and the reigning champion Saints.
20 - Houston Texans - CB Kareem Jackson
The Texans lost Dunta Robinson to the Falcons and are in serious trouble and are looking for help in the secondary. If they even want to compete in the division against Peyton Manning and his Colts, they must address this need. Jackson is a solid player who helped the BCS champions Alabama win against the Longhorns. The Texans might need to draft multiple corners in this draft.
21 - Cincinnati Bengals - TE Jermaine Gresham
The Bengals need a tight end and Gresham is a big target (6'5" and 261 lbs) to help Carson Palmer in the pass game. The Bengals made moves in the off-season to help Chad Ochocinco out; they signed both former number one receivers Antonio Bryant and Matt Jones as well as bringing back slot receiver Quan Cosby. Right now their tight end is Daniel Coats, an average end at best. Gresham could be the player their offense is missing. However, Jermaine missed all of last year due to a torn ACL.
22 - New England Patriots - DE Jason Pierre-Paul
Pierre-Paul is 6'5" and 270 lbs and is a fast pass-rusher at the end position. The Patriots need a pass-rusher and if he falls this far down, they will take a long look at him. The Pats missed out on the Julius Peppers and Aaron Kampman sweepstakes so they will be looking for a sack-threat in the draft. Vince Wilfork can't do it alone.
23 - Green Bay Packers - OT Anthony Davis
The Packers offensive line is the only line that could be worse than the Bills'. Last year, Aaron Rodgers was the most sacked and pressured quarterback in all of the NFL. Davis is a very good tackle who can play either left or right. Rodgers would like to see some change instead of seeing himself falling towards the ground, especially now since the rival Chicago Bears have signed DE Julius Peppers.
24 - Philadelphia Eagles - OT Charles Brown
After releasing Stacy Andrews' brother, Shawn Andrews, the Eagles have a need for a tackle. After trading McNabb away, the much less mobile Kevin Kolb is going to take snaps under center, meaning he won't be able to escape sacks like Donovan. They could use a tackle like Brown to protect their young QB.
25 - Baltimore Ravens - CB Patrick Robinson
The Ravens have already expressed some interest in Robinson and would like to have him as a corner for them. He has had some great games at FSU and has been considered by some, a potential shutdown corner. However, he has been known to give up the big play occasionally and can be beat with a deep ball. The Ravens are also interested in CB/S Devin McCourty, but they think Robinson has a better upside.
26 - Arizona Cardinals- LB/DE Jerry Hughes
The Cards are in need of a pass-rusher after losing Karlos Dansby. Hughes is a top outside linebacker in the draft who would start opposite Joey Porter. The Cards met with Hughes already before the draft and will be looking for him when the Cardinals are on the clock.
27 - Dallas Cowboys - OT Bruce Campbell
Campbell had an outstanding combine as well as pro day and the Cowboys have commented on how impressed they are. One Dallas Cowboy scout said, "He has the best body of anyone I've ever seen." After releasing Flozell Adams, they will be looking for a tackle like Bruce to protect Tony Romo's blind side.
28 - San Diego Chargers - RB Ryan Mathews
After letting LaDainian Tomlinson go, the Super Chargers will be looking for a back to share carries with Darren Sproles. Mathews is a power back who can compliment Sproles and Marcus Mason very well. He is considered the best running back behind C.J. Spiller in this draft. He probably won't live up to LT, but he definitely can be a substitute for him.
29 - New York Jets - DL Jared Odrick
Jared Odrick is a beast at 6'5" and 304 lbs and is a great bull-rusher. He is massive and strong, but can accelerate to get to the QB when he has to. He is a freak of an athlete and would fit great in Rex Ryan's defensive scheme as a 3-4 defensive end. Newly acquired Jason Taylor could also mentor him to become something great. There is also speculation the Jets are looking to trade/waive DE Shaun Ellis and Odrick could take over for Ellis as an end.
30 - Minnesota Vikings- C/G Maurkice Pouncey
The Vikings have no real center right now to snap to Brett Favre. Pouncey is the top center in this draft and the Vikings line will need to protect Brett Favre or he'll end up in that retirement home a lot sooner than anyone would think. Maurkice Pouncey blocked for Tim Tebow and the Gators powerful offense just last season.
31 - Indianapolis Colts - CB/S Devin McCourty
Peyton Manning was the least sacked quarterback last year, so even with their offensive line, they don't need an upgrade immediately. And with Dwight Freeney and Robert Mathis, a pass-rusher absolutely isn't needed. Last year Jacob Lacey and Jerraud Powers did well as rookie corners, but they're still lacking a number one corner. McCourty is a very good overall corner who can make plays at times andactually started in Rutgers as a safety initially. The Colts are looking to upgrade their defense and McCourty is the way to go.
32 - New Orleans Saints - LB Sean Weatherspoon
After Jonathan Vilma, the Saints have no other linebacker to be wary of. In the off-season, they lost LOLB Scott Fujita to the Browns. Weatherspoon is a versatile LB who can both get sacks, and defend the pass. He's shown he can read the QB like a safety in Missouri and can get interceptions as a LB. He might be the best overall OLB in the draft.
Round 2
33 - St. Louis Rams - WR Demaryius Thomas
After drafting Bradford, they need to address the fact that Sam needs someone to throw the ball to. Thomas can be a deep threat and go-to receiver, but did hurt his foot during off-season workouts recently.
34 - Detroit Lions - OT Rodger Saffold
The Lions still need to beef up their O-line in order to keep Matthew Stafford out of harm's way. Saffold was a very good and consistent starter at Indiana. He's been overlooked due to the depth of this year's draft.
35 - Tampa Bay Buccaneers - DE Everson Griffen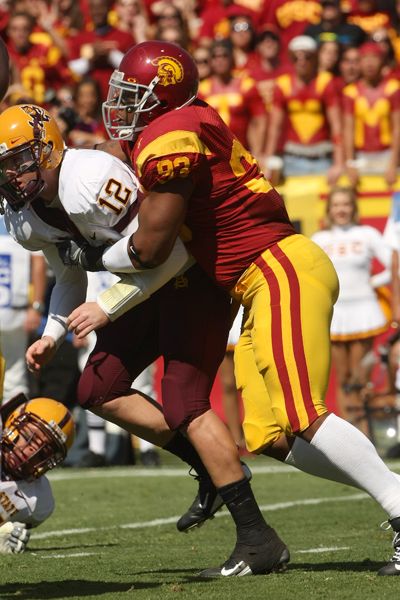 Even if the Bucs draft Gerald McCoy, they need an end to help pass-rush. They are a young team who could use another player on defense like Griffen. They already have Barrett Ruud, Ronde Barber, and Sean Jones, but a pass-rusher is a definite need.
36 - Kansas City Chiefs - TE Rob Gronkowski
The Chiefs no longer have Tony Gonzalez and Matt Cassel needs more options than Dwayne Bowe. Gronkowski is a big target at 6'6". He missed all of last year due to injury, but can make plays as well as block.
37 - Philadelphia Eagles - RB Jahvid Best
They released Brian Westbrook not all that long ago and need a RB to run with LeSean McCoy. Best is a strong runner who could easily be a starter in this league. The Eagles are currently in rebuild mode and are looking at RBs right now.
38 - Cleveland Browns - QB Colt McCoy
The Browns have said Jake Delhomme is their starting QB, but that doesn't mean they won't look for a QB to groom for the future. He could fit well with Mike Holmgren and eric Mangini's system and could, at the very least, bring in more money for jerseys and give the fans hope for once.
39 - Oakland Raiders - G Jon Asamoah
Unfortunately for Asamoah, the Raiders are looking for linemen. They need all the help they can get on offense and if they draft Asamoah, maybe, just maybe, JaMarcus Russell won't look that awful.
40 - San Diego Chargers - DT Brian Price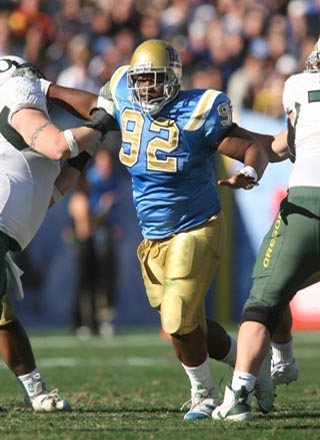 Brian Price is a big guy, who the Chargers need to replace NT Jamal Williams. Price is only 6'1", but weighs over 300 lbs. He is a powerful nose tackle the Chargers will be looking at.
41 - Buffalo Bills - QB Tim Tebow
The Bills clearly need a QB (sorry Ryan Fitzpatrick, Trent Edwards, and Brian Brohm). A lot of people are reporting the Bills would love to have Tebow andwould draft him in the 1st round if they had a lower pick. He has a great work ethic, but many people doubt his abilities as an NFL QB.
42 - Tampa Bay Buccaneers - G Vladimir Ducasse
The Bucs need to improve their O-line among many other things. Ducasse is a big, strong guard who would be capable of starting right away and being able to actually protect Josh Johnson.
43 - Denver Broncos - WR Golden Tate
The Broncos need receiversbadly now without Marshall. They received a second-rounder for this year and next for him and I strongly believe they will use the pick(s) on a receiver. Tate would go nicely with Dez Bryant as a deep man and Tate and Eddie Royal as slot receivers.
44 - New England Patriots - CB Chris Cook
The Pats need help in the secondary aside from Leigh Bodden and Brandon Meriweather. Cook stands at 6'2" and would be a good move for Belechick's defense if they want to be decent this year.
45 - Denver Broncos - DE Carlos Dunlap
Elvis Dumervil was a phenom last year and teams may start double-teaming now. The Broncos could use an end like Dunlap, as Robert Ayers will probably start opposite Elvis. Dunalp was a top pass-rusher in Florida's top-ranked defense from last year.
46 - New York Giants - CB Dominique Franks
With the injury to Aaron Ross and the inconsistency of Corey Webster, the Giants will probably be looking at corners in the draft this year. Franks is 6' and was the Sooners' number one corner.
47 - New England Patriots - LB Brandon Spikes
The Pats are also looking at LBs as Junior Seau recently retired and Adalius Thomas will probably be released. Spikes was another top player on the top defense in Florida. Belechick is good friends with Urban Meyer and maybe there is also a corrolation there.
48 - Carolina Panthers- WR Arrelious Benn
Steve Smith isn't getting any younger and something tells me Wallace Wright isn't the answer in Carolina. Benn would be a bigger target for young Matt Moore and could help him become the franchise QB they need.
49 - San Francisco 49ers - S Taylor Mays
Mike Singletary is all about defense and Mays is a hard hitting safety, a quality Singletary loves. Mays is a top talent with high potential for the NFL. Many teams are interested, but most of those teams have a more pressing need. If Mays gets past the 1st round, he'll most likely slide a little and it isn't far-fetched to see him in the mid to late 2nd round.
50 - Kansas City Chiefs - G John Jerry
The Chiefs need help on the O-line and big Jerry would help their cause. And when I say big, I mean BIG (6'6" and 335 lbs). Their offense hasn't been formidable in a long time, but with the additions of RB Thomas Jones, G Ryan Lilja, and C Casey Wiegmann, they could be a good offensive team, as long as their blocking remains solid.
51 - Houston Texans - CB Perrish Cox
Houston still needs corner help, despite what they draft in the 1st round. Their secondary is lacking with Bernard Pollard (a.k.a. Brady and Welker's "assassin") as their biggest star there. Cox is a good, play-making corner who will get his fair share of picks throughout the year and would be a very nice number two cornerback.
52 - Pittsburgh Steelers - WR Eric Decker
The 6'3" 217 lb receiver is considered to be a top WR in this draft. He can be a deep threat and the Steelers are in need for a WR whether he is for Ben Roethlisberger, or if traded, whoever takes Big Ben's spot. Hines Ward is getting older and has hinted at retirement soon, leaving Mike Wallace as their number one since Holmes is a Jet.
53 - New England Patriots - TE Dennis Pitta
Yes, the Pats have yet another 2nd round pick. And I think the Patriots will look at tight ends in this draft. Pitta is a tall TE at 6'4" and would be a nice pick-up. After letting Benjamin Watson and Chris Baker walk, Tom Brady will need a new TE target besides Alge Crumpler.
54 - Cincinnati Bengals - S Nate Allen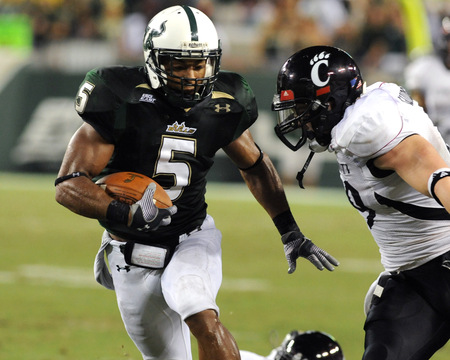 Cincy needs a safety, and Roy Williams and Chinedum Ndukwe aren't cutting it. Williams is getting old and Ndukwe is an okay starter. Allen will probably be available here in the draft and they could use a pure free safety like him.
55 - Philadelphia Eagles - LB Sean Lee
With a hole at linebacker currently, the Eagles might take a look at local product, Sean Lee. He stands at 6'2" and weighs in at 236 lbs, a good size for an inside linebacker. The Eagles are going through a makeover of their team and Lee could start this coming season for Philly.
56 - Green Bay Packers - CB Amari Spievey
Charles Woodson (the 2nd best corner in football behind my boy, Revis) is 33 and Al Harris is 35, meaning the Packers will need to draft corners for the future to be mentored by the two. Spievey is a higly touted prospect and can one day grow into being a starting corner, but right now he needs to learn from Woodson before he does start.
57 - Baltimore Ravens - S Major Wright
The Ravens need a safety to play opposite Ed Reed. Since losing Jim Leonhard to the Jets a year ago, they've needed a replacement. Wright played free safety in college, but could switch to strong safety and could learn from veteran Reed. Also, there have been rumblings Reed has been thinkingof retiring so an heir is in line for the Ravens.
58 - Arizona Cardinals - WR Damian Williams
Williams is a very good all-around receiver that the Cardinals could use to replace Boldin. He is 6' tall, but really fast and quick. At USC, he was the target for a lot of screen passes and had his biggest year last year. He could be the number two receiver behind Larry Fitzgerald and ahead of Steve Breaston.
59 - Dallas Cowboys - DL Lamarr Houston
While not being the biggest tackle in the draft at 6'2" 300 lbs, but could fit in with the Cowboys' D. He could move out to DE and play with Igor Olshansky, Jay Ratliff, and DeMarcus Ware and learn from them as well. Wade Phillips would like to add to his defense.
60 - Seattle Seahawks - QB Tony Pike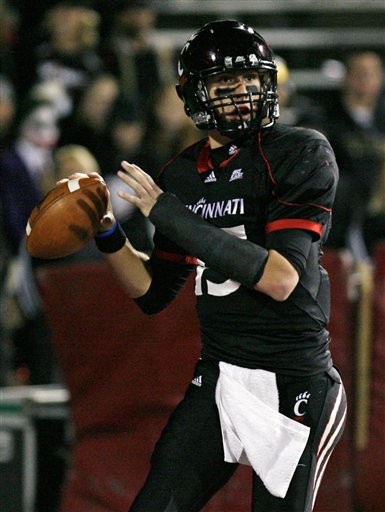 Pike is the 5th ranked QB in this draft, but that doesn't mean he can't be just as good. He is accurate, but has some questions with arm strength. It's no secret the 'Hawks are looking for a replacement for Matt Hasselbeck, whether it's Charlie Whitehurst or a rookie like Pike. I think, if drafted by Seattle, he will have a good chance at starting this coming season.
61 - New York Jets - LB Daryl Washington
I strongly believe that if Daryl isn't drafted in the first round, he will drop far in the second round because few teams need an OLB, and if they do, the draft is so deep, they probably will get one in the 1st. Washington has already met with the Jets and they seemed excited about his talent. And with Vernon Gholston switching to DE and rumors saying Bryan Thomas will be traded/released, Daryl is the way to go for LOLB.
62 - Minnesota Vikings - RB Dexter McCluster
After the Vikes lost Chester Taylor to the Bears, they have been looking at replacements for him. McCluster seems to be a favorite among scouts and think he would compliment Adrian Peterson well. He's shown he can run the ball effectively and catch it as well, making him a great 3rd down back behind AP.
63 - Indianapolis Colts - DL Tyson Alualu
The Colts have great DEs with Freeney and Mathis, but don't have a real DT. Last year they juggled around several players there including Raheem Brock, Antonio Johnson, and Eric Foster; Foster is actually in trouble with a sexual assault case on his hands. Tyson Alualu could be a nice DT in the Colts' 4-3 scheme.
64 - New Orleans Saints - DT Terrence Cody
If you can't tell from this picture, Cody is huge. At 6'3", 354 lbs, he is a force to be reckoned with. Terrence can clog up the middle and will stop the run if a back runs his way. The Saints could use another DT in their 4-3 scheme as Sedrick Ellis could use help.
And, finally, I'm done. I've offered my perspective and now it's your turn. Make your own predictions and compare them with mine. Argue why each team should/shouldn't have picked someone. What do you think will happen, well today? And the 23rd and 24th as well.
As always, feel free to leaves any questions or comments you have. And if you want to try out your own mock draft, click here. Happy drafting.