I'm not a huge fan of Quinton Coples to be honest; he is a bit of an enigma among Jet fans, especially after his switch to the OLB position. I would have drafted Alshon Jeffery in the 1st instead of Coples. We all have our thoughts on the 2nd half of Quinton Coples season; some say he was average, some say he was close to elite. So which was it?
In this post I will use PFF's (I'm not a fan of PFF either) 3 main signature stats for 3-4 OLB's, Run Stop%, Tackling Efficiency and Pass Rush Productivity. There is a signature stat I'm omitting (Coverage) but I feel comfortable doing so as Coples does not do this very often.
Let's start with Run Stop%. For this I will look at Coples season as a whole, simply because breaking down his numbers for the 2nd half of the season on this would take too long.
As you can see by his numbers here, Coples was 7th out of 28 qualifying players. Part of the Job of an OLB is to set the edge and looking at these numbers would seem to suggest he in the top quarter of the league in this facet of the game. Coples is well above average here and is on the cusp of Elite, according to PFF. In this area at least, Coples move to the OLB spot looks to be working out quite well.
Next up, I will look at Tackling Efficiency. Similar to Run Stop %, I will look at Coples season as a whole for the same reason as above.
Again Coples does very well here, ranking 5th out of 29 qualifying players. This appears to be another area that points to Coples move to the OLB spot working out very well. One could argue that Coples is indeed Elite in this area according to PFF but he is certainly nowhere near average.
Finally we come to the most hotly disputed area when assessing Quinton Coples, his Pass Rush. For this I will give his season's production as a whole and then break down Weeks 9 thru 17 to attain his Pass Rushing Productivity for the 2nd half of the season.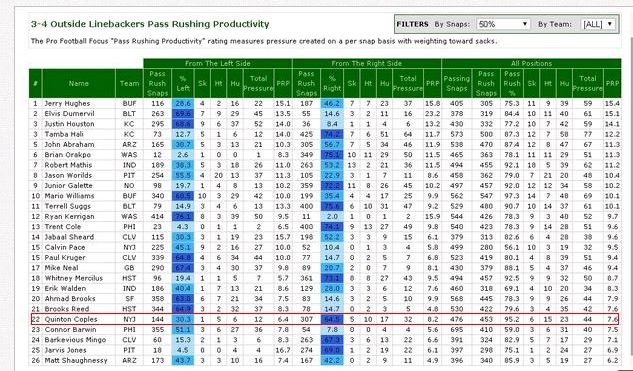 As you can see over the course of the entire season, Coples ranks well below average, tied with Brooks Reed for 21st out of 26 qualifying players. Coples is certainly well below average in this facet of play over the entire season. But we have all heard of how well he did in the 2nd half of the season in comparison to the 1st half, so let's examine his numbers over the final 8 games to see exactly what the difference in production in this area is.
To do this I will need to find the amount of Pass rush Snaps Coples had every week and add those together to get a total figure for the amount of time he did indeed rush the QB in the 2nd half of the season. I will also need to find the Total Pressure's (Sacks, Hits and Hurries) over the 2nd half of the season Coples was credited with to obtain his Pass Rush Productivity (PRP). I have highlighted all the relevant information in the red boxes so you can keep track.
Week 9
Week 11 (We had no game in week 10)
Week 12
Week 13
Week 14

Week 15
Week 16
Week 17
As a whole, for these 8 weeks, Coples rushed the QB 267 times ( all his pass rush snaps from each week added together, i.e the 1st number in the red box ) and had 5 Sacks, 11 Hits and 19 Hurries.
Over the final 8 weeks Coples Pass Rush Productivity was a very respectable 10.3 (actual figure was 10.299 but I rounded up).
I got this by attributing the same values PFF give, i.e. 1 for every sack (5) and .75 for every Hit/Hurry (30 combined). As you can see from the Season Pass Rush Productivity table (The one where Coples ranked Tied 21st with a 7.6) Coples did indeed improve by leaps and bounds in the 2nd half of the season. His 10.3 would now rank him a very respectable 9th out of 26, again not Elite but certainly above average.
Just to show how big a difference his 2nd half was in compared to the 1st half, i worked out his Pass Rush Productivity for this time too.
Over the 1st 8 weeks Coples rushed the passer 186 times( his season total of 453 minus 267 ) and had 1 Sack 4 Hits and 4 Hurries, giving him a Pass Rush Productivity of a meager 3.8 ( actual figure was 3.763 but again i rounded up). The difference here is a whopping 6.5 between both halves of the season. It certainly looks like the light did indeed come on for Coples during the 2nd half of the season from a pure Pass Rushing standpoint.
I hope this data is helpful to some of you out there and may help you when you ask yourself the question "How is the Coples to OLB Experiment looking for the future? ".
As I said above, I'm not a fan of PFF and I take their numbers with a grain of salt so it hasn't really changed my mind on the guy but it did make me open my mind to the possibility that we may in fact have found a very respectable OLB for the future.
Thanks for reading.