Not Full Time
There is the thought out there that the way that Coples' season went was that he wasn't played much for some mysterious reason, but that eventually Rex saw the light and started giving him many more snaps and getting great production out of this. But this really doesn't capture how the Jets used Coples this year, and definitely not how they view him - at least in his rookie year.
To get a glimpse of how he was thought of one needs to look both at the Defensive Line snap distribution and the snap distribution for Coples himself. Below is the snap count for the main Defensive Line contributors each week (Dixon, Harrison and Muir are not included). The biggest storyline that can be seen right away is how Coples's snap count shot up with the Colts game, and then back down three games later after the bye at Seattle. In the middle of the season Coples was a major part of the Jet defense snap profile, but this corresponded to the injuries at NT (Pouha and Ellis).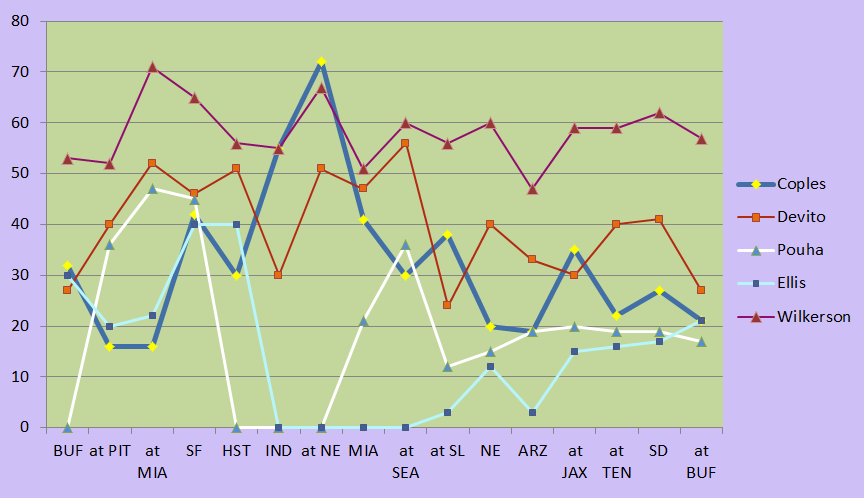 Everything peaked at New England with Coples getting a remarkable 90% of defensive snaps, even more snaps than the snap count anchor Wilkerson. That NE game is an interesting game because it represents in some ways what the Jet defense might look like if Coples was a full time defender. The Coples fueled defense was stalwart in the first off - only a Special Teams failure and a Mark Sanchez/Greene hand-off bungle kept the Jets from having a 10-7 lead against an offense that generally was thought just too dynamic for the Jets to keep up with. In the end the Defense only gave up 6 rushing first downs. It certainly looked like they could keep up with one of the better offenses in the league.
But it seemed clear that with Pouha coming back, and then Ellis, at the bye Rex and Pettine had a different plan for Coples. He was not - at least in his rookie year - being groomed as a full time defender. He was a pass specialist this year, as can be seen in the general run/pass snap distribution in games following the bye (below). Where Coples played 90% of the snaps in the first game against New England, in the second game he would play less than 30%. Below is the distribution. The dotted line below is the percent of total defensive snaps that he played.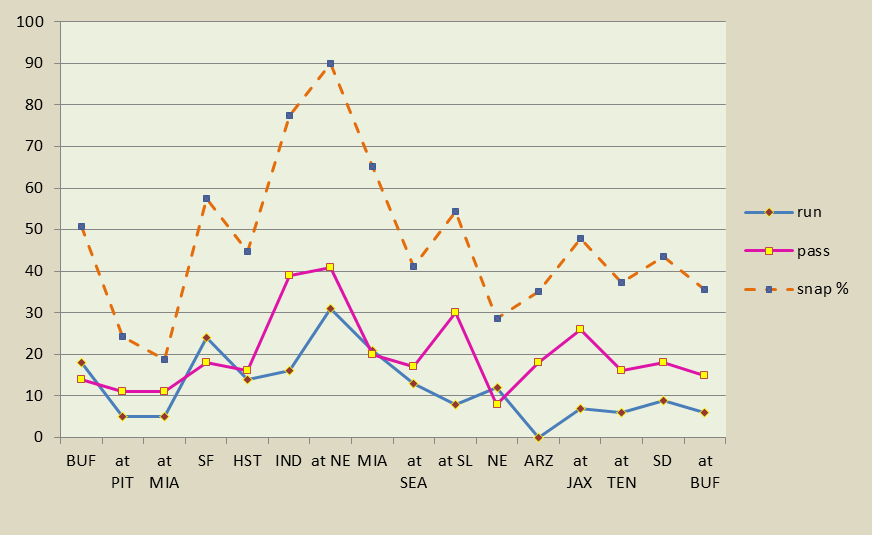 Pass Rush Defender
In the final five games of the year, most of them without playoff meaning, we really see Coples being used in perhaps the way they envision him. His pass snaps double and in one game (JAX) almost quadruple his run snaps, and he is playing around 40% of defensive snaps.
There is a lot of course that can account for this. They are perhaps just bringing him along and want him to concentrate on one skill set, only to add run defense in the second year. Pettine himself said that they want him around 45% of snaps this year. Or it could be - as many surmised at draft - that Coples does not really fit Rex's defensive scheme very well, and he would have to be used in a more limited way given the personnel that Rex wants on the field at any one time.
If though we are to take something away from the snap count and injury picture it would seem that if Rex realized anything about Coples this year, something that expressed itself at the end of the year, it would be that Coples is a passing down player for him, at least in this point in his development. Ideally they do not want him playing the run, most of the time. One would also imagine that if the Jets had an effective NT presence this year - neither Pouha or Ellis played very well - this snap count picture might have been even more stark.
Rex is thought of as a "defensive genius". A guy who specializes in defensive line talent evaluation and development. One has to wonder if he has made a determination about Coples as limited, or if this is part of a long term development strategy. One also has to wonder if Coples would have benefited from seeing more full time play in the final weeks of the season, when games no longer mattered in the playoff sense.
Update Edit:
I decided to take a look at Wilkerson's snaps in 2011 to see if this is a typical distribution for Rex and rookies. Wilkerson had a much less skewed pass to run snap distribution, and he certainly averaged more snaps by percentage. Below I juxtapose Wilkerson's percentage of total snaps in 2011 to that of Coples in 2012, just for reference. It seems safe to say that without the injuries at NT Coples would have played significantly fewer snaps by percentage than Wilkerson did as a rookie.
Would love to know how you view the snap count picture, how Coples fits in with the Rex scheme (no, I don't think they are going 4-3 on us) and if Rex was culpable in not getting Coples more experience this year.