We probably wont adress this need to the 2 round and beyond but lets look at some options between the draft and FA
KAWANN SHORT:
Short had a hot start to the season. He has been one of the top interior pass-rushers in college football. Short had a two-sack game against Notre Dame and dominated in other outings. He has shown the ability to beat guards with strength as well as speed, and looks more powerful this season.

Short was slowed down in the middle portion of the year by an ankle injury but continued to play. He had an ugly showing against Penn State, but came back dominant against Iowa. Short had six tackles, four tackles for a loss and a sack veruss the Hawkeyes. A teammate was credited with another sack but it easily could've been split with Short.

The senior has totaled 42 tackles, 14.5 tackles for a loss, six sacks, four passes broken up, four blocked kicks and a forced fumble in 2012.

Kawann Short benefited greatly from Ryan Kerrigan for two seasons. Short took over as Purdue's defensive leader as a junior last year. The sophomore recorded six sacks and 12.5 tackles for a loss in 2010. He also had 41 tackles with two blocked kicks.

Short is strong, quick and athletic. He looks like a potential three-technique defensive tackle with the ability to shoot the gap and get pressure on the quarterback. Kerrigan was quick to tell at the 2011 Senior Bowl that Short helped him to reproduce his success in 2010.

Short started last season slowly without Kerrigan next to him, but in the second half of the year, the junior was excellent, including a three-sack game against Ohio State. He totaled 54 tackles with 17 tackles for a loss, 6.5 sacks and one forced fumble in 2011.

Short was a Second-Team Big Ten performer last - his second straight selection. Purdue does an excellent job of producing quality NFL defensive linemen, and he appears to be the next in line.

Finding pass-rushing defensive tackles is very hard for NFL teams, thus Short stands a good shot of being a first-rounder given his consistent pass-rushing production.




Williams was quiet in the second half of the season with just one sack. It came against Virginia in an excellent performance by Williams. In 2012, he had 42 tackles, 13.5 tackles for a loss and six sacks. Williams has a nice combination of speed and size.


The junior-college transfer benefited from some good talent around him in Tydreke Powell, Quinton Coples and Kareem Martin last season. Williams had 54 tackles with seven tackles for a loss, 2.5 sacks, one interception and a forced fumble. He is a specimen with a nice combination of size and speed.


Williams needs more development, but is an interesting prospect. He made a good decision to stay for his senior season.

Sylvester Williams: Williams was getting to the quarterback a lot with five sacks in the first six games. The one game he was held in check came against Louisville. Center Mario Benavides held him to two tackles, and the
Cardinals
gashed North Carolina on the ground up the middle. It was an ugly performance. He bounced back with better performances against weak opponents.
DANIEL McCullers: The mammoth McCullers was a presence for Tennessee. He had a good game against Florida with three tackles and a tackle for a loss. McCullers also had some pass pressure versus the Gators. He totaled 39 tackles, 5.5 tackles for a loss, a pass broken up, a forced fumble and a blocked kick in 2012. McCullers is still raw, but he could turn into something special.

The junior probably would be better off playing four years in college before going pro. McCullers started out his college career at Georgia Military College. He had 37 tackles, nine tackles for a loss and two sacks there in 2011. McCullers had 27 tackles, four tackles for a loss and a forced fumble in 2010.
FREE AGENCY
Sen'Derrick Marks
:Can play 4-3 NT or 3-4 NT young can penetrate and a good fit for NY.
ALAN BRANCH:Similar to Marks and will come cheap.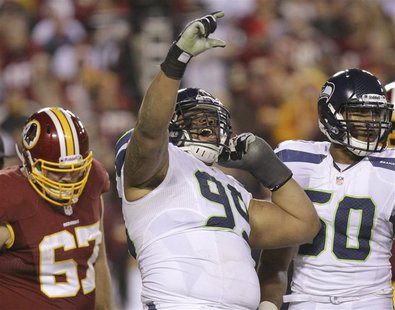 COMMENT WHICH BIG MAN YOU WANT? NOTE:Sione will be cut!!!!