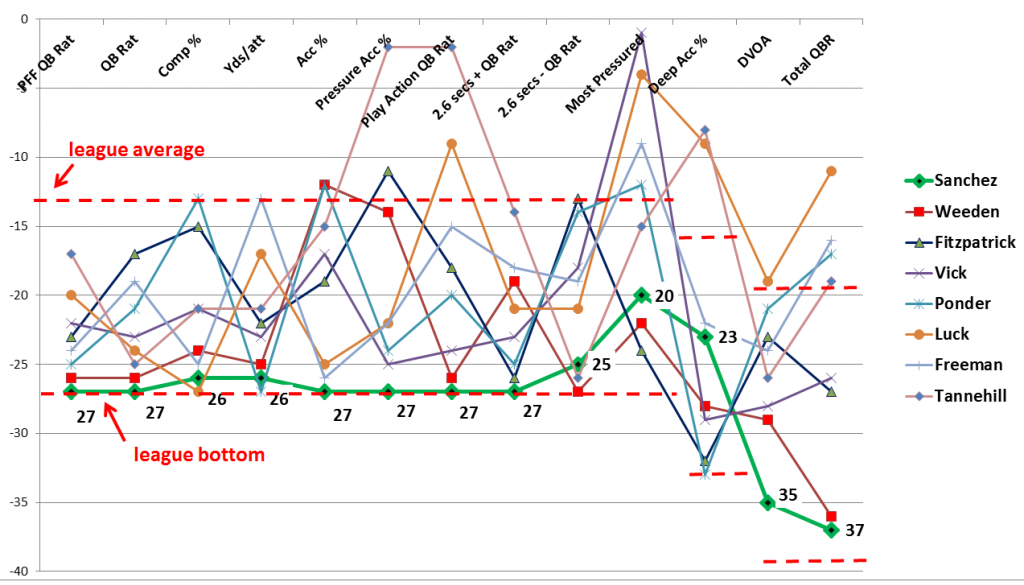 Mark Sanchez supporters are hard to be found these days, and it has become nearly tiresome to talk about how bad he has been this season. Even optimistic and very reasonable predictions such as Smackdad's thought in November that Mark facing such weak pass defenses in the final part of the year would produce at least the illusion of a season recovery never came to fruition.
The Jets also face the # 16, 18, 21, 27, 28 and 30 pass defenses. If Sanchez can attack some of those bottom feeders like he has against similar defenses this season, there is reason to believe we lie on the cusp of a mini Sanchez renaissance. While it's certainly not a sure thing, it would not be shocking if Mark compiles a QBR of 90 or better over the last 7 games.
I point out Smackdad's fair analysis to make just how far and complete Sanchez's fall was. Mark had it set up for himself, but rather we saw Mark just crumple under the sheer pressure of his own failures until finally against the Bills - the team he wiped up in game one, a team he could have used to leave a good taste in the fans' mouths in the off-season - he went with a whimper, and a I-don't-care.
We are not sure what a new GM (and hopefully OC) will decide, but there are at least early signs that Sanchez left the Jets facility with the distinct impression that he would have a chance to win the starting job back this Summer. Given that time heals all wounds it also seems likely that with a few months off and a few changes on the team Mark Sanchez supporters will be back, talking about how bad Schottenheimer Sparano was, the OL, the receivers, the running backs...the Tebow, and at least among some there will be a warm feeling about Mark as he seeks to reclaim the throne of Handsome Man about town.
This being so it is at least worth while to document just how bad a season Mark Sanchez had with a close look at final numbers. There can be no doubt that there was adversity at many levels, but there was no excuse for how completely incompetent Mark Sanchez's response was to all those hills to climb. Above is a category by category comparison of all the "bad" QBs in the league last year (a larger image at the bottom). I find this stuff interesting because when looking at the numbers you get beyond "he is bad" and you see sometimes gradations and reasons why. A QB might be poor under pressure, but then great using play action for instance (like Luck was), or might have bad numbers across the board but also be pressured more often than anyone in the league (like Vick was). The picture that comes clear for Mark is that he did nothing well, and in fact performed at league bottom in almost every way.
Not the Pass Protection
The data mostly is drawn from the top 50% of snaps for QBs in the league. In those cases only 27 QBs qualified so Mark at 27th would be last. A red dotted line indicates both league average and league bottom. A few things to notice is that Mark was pressured quite infrequently. Only 7 QBs faced less pressure than he did. There was a "the line is terrible!" excuse running around for much of the year put forward by Sanchez supporters who largely have quieted down if only in sheer disbelief of how poorly the Jet general has played, but we should be clear, Mark got pretty good OL play all year. Not only was the protection there above average, so was the run blocking, as nyjetscap.com also argues:
Because the QB play was so bad and the RBs so poor, people believe that this offensive line is terrible. It really was not. They were top 10 in run effectiveness and pass protection. If the Jets had better skill position talent it would be noticeable how much better the Jets offensive line was.
No, the RBs were not top shelf to say the least, below league average, but the OL was above league average, and Sanchez had it pretty good in the pocket. On this list of Bad QBs only Fitzpatrick and Weeden were less frequently under pressure. And it is of note that a few were under a great deal of pressure such a Vick who was most pressured in the league, Luck who was 4th, Freeman 9th and Ponder who was 12th. When looking for Sanchez peers we might look at those two QBs who also faced less pressure to see if they are comparably bad. Fitzpatrick is an interesting case, off the cuff we might think Sanchez and Fitzpatrick are something in the same boat. But Fitzpatrick actually had several above league average performance metrics. He was 11th in the league in Under Pressure Accuracy % (which factors out drops and batted passes) for instance, while Sanchez was dead last, and he had a QB rating that was 13th in the league with under 2.6 seconds in the pocket, while Sanchez was dead last again. So we get it, Fitzgerald was much better with the ball under pressure than Sanchez was. He also performed generally better across the board.
Not Drops
But what about the 29 year old rookie Weeden. Perhaps there we have a matching data point. Not only did Weeden share the luxury of not being excessively pressured, he is pretty close to Mark in many categories near the bottom. Perhaps Mark wasn't the worst in the league after all. But there is that bugaboo that haunts Mark, he is just a very inaccurate QB. Weeden was actually above league average in accuracy percentage, tied for 12th with Ponder, and just below average in Under Pressure accuracy percentage (14th). While Sanchez fans cried for much of the year about the unfair drops Mark had to suffer through they did not realize that lots of QBs have drops, this is normal stuff. The two accuracy percentages (remember they factor out drops) put Weeden far above Sanchez who was last in both these categories. Weeden had a problem with receivers dropping the ball, Mark really did not (by league standards his receivers dropped the ball an average amount of times). Mark was inaccurate despite his receivers, at least by this metric.
The Deep Pass
There was some talk - from me as well - that Mark needed to throw the ball down field. That's his game.And there is some truth to that if only by virtue of how incomprehensibly bad he is at throwing the short pass. And notably Deep Pass Accuracy percentage is the only category where he is not fighting it out for last or near last place among all the bad QBs. But even this feather in Mark's cap is well below league average. He ranked 23rd out of 35 qualifying QBs (the field needed to be expanded to the top 75% of snaps). The positive here is meager, Mark is still inaccurate even as a 20+ yard thrower. But the performance does bring our eye to Tannehill, a QB that shares several bad data points with Mark. Both have low QB ratings, completion percentages, are league-bad with less than 2.6 seconds in the pocket. But Tannehill, unlike Mark, was very good in Deep Pass Accuracy percentage, 8th in the league, and excellent in Accuracy percentage under pressure (2nd) and Play Action (2nd).
Not Play Action
There also has been a general assumption that Mark is great at Play Action. He has great ball fakes they say, and this is a natural weapon off of our running game. The stat is only being kept this year so it is hard to tell the fact from fiction in past years, but this year Mark was the worst Play Action QB in the league by QB rating, an off-the-charts 49.3 QB rating - the next worst was Weeden at 70.1. He also was only 20th in the league in Play Action frequency (did Sparano move away from Play Action?). In any case, even if play action was less frequent than he was used to, and the RBs were not quite the threat they have been in the past, there is no excuse whatsoever for Mark to be the worst play action QB in the league if this was a strength. This year it was a weakness beyond all others.
It is enough perhaps to say that Mark's performance goes far beyond the failures of those around him, whether it be talent or coaching. Somehow even though challenged he broke mentally this year and spiraled down into league low performance levels in nearly every aspect of QBing, which isn't to even broach the in-game failures that were almost mind boggling such as red zone collapses or innovative ways to turn the ball over at the worst possible times. What we discovered this season was not that our QB had no talent, it was that he had no mental toughness, he could not take an advantage or an aspect of his situation that was working and make something of it. Let us remember that when he starts competing for a job in the Summer if the new GM does not work a miracle and move him elsewhere in the league.