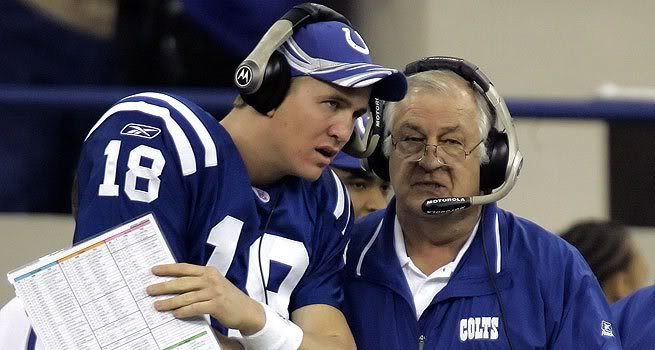 After your done rolling your eyes, could we see Peyton Manning join Tom Moore in a Jets uniform next season? Manning is currently rehabbing from his neck fusion surgery and his future as the Colts QB is uncertain. As his current team keeps sliding towards a defeated season and the 1st overall pick of the 2012 draft, there are whispers of Manning becoming a FA next year. Why would this happen? Well first, he will have a 28 million dollar cap hit before the 2012 season begins. Secondly, the Colts will be able to select Stanford QB Andrew Luck, thus cementing their QB position for the next 15 years.So let me lay out of a scenario of why and how Manning will become a Jet:

Why Peyton Manning will be a 2012 Jet:
Manning's career is coming to a close and he may want to join a team that has a better chance of winning than the Colts. He may also may not want to renegotiate his contract, knowing that the team will select Luck with their first pick. Manning has an ego, and he has every right to have one, and he will still want to be the "man" in Indy. He doesn't want to have to answer questions about how Luck is progressing and face the inevitable benching in place of Luck.

The current Jets team is made up of mostly veterans, who want to win a Super Bowl. Even though, many of them have given Sanchez a ringing endorsement, they have to be wondering whether he is the guy. Sanchez has done a remarkable job in leading the team to two straight AFC championship games, but in this league you have to win the big game. Acquiring Manning would be more of an opportunity signing than an indictment of Sanchez. When Tannanbaum had the chance to acquire Favre, he pulled the trigger. Should this opportunity be any less enticing? If I were the Jets, I would jump all over Manning IF he became a FA. I would talk to Tom Moore and have him recruit Manning. Moore is semi-retired and I doubt he would want to become the Jets OC, but they could fire Schotty and bring in a young assistant that is familiar with Moore's system. I would make Manning the starter, give him a 1-2 year contract and have Sanchez learn this system from him. At the end of Manning's contract Sanchez would be able to have some continuity in this system, as the OC would stay on. Of course, there are a lot of obstacles in the way. . .

Why Peyton Manning will not be a 2012 Jet:
Perhaps the biggest reason he will not be a Jet is his contract. Would the Colts be willing to part ways with him or would they do everything they could to restructure his contract. If Indianapolis wants to draft Luck, who better to mentor him than Manning? I'm sure Manning would love to ride off into the sunset after winning a Super Bowl and tutoring Luck to be a comparable replacement.

As far as the Jets side goes. I'm not sure they will ever give up on Sanchez because they have to much invested in him. Plus, it would be Rex and Tanny admitting they were wrong about him. I'm sure they would worry about the long term effects on Mark's confidence by bringing in another QB to lead them to the promised land. Even though, that QB would be Peyton Manning, i'm sure Sanchez thinks he has what it takes to be just as good as Manning down the road. If he didn't then he shouldn't be a professional football player.

Let's face it, this scenario will not likely play out, but anything is a possibility. Bottom line is I just don't see Manning ever leaving the Colts and I cannot see the Jets front office giving the reigns to the franchise to another QB. But then again Favre was never supposed to leave Green Bay.