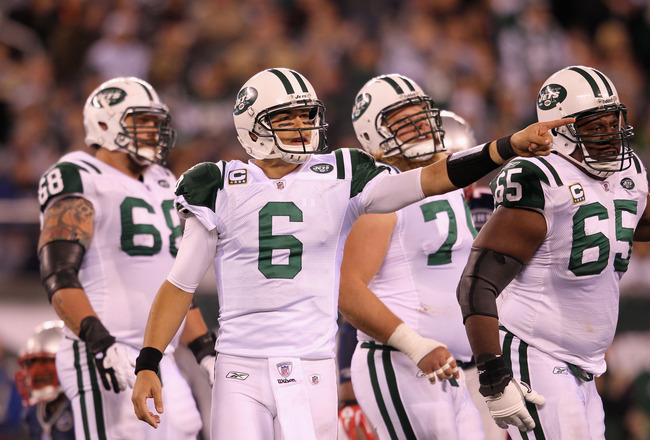 Oh, how the New York Jets love to keep their fans on the edge of their seats.
Breakout year for Mark Sanchez? Nah. Offense that averages 30 points a game? Nope. Win the AFC East? Fail.
The Jets had their chance to take the lead this past Sunday against the Patriots—how did that turn out? Oh, that's right, they blew it. Shocking. But nothing comes easy, especially in Jets nation. Unfortunately.
The Jets still have a chance to make the playoffs. They have seven games left—even chances to right their ship. They have to have a short memory, and move on. No hangovers. It starts tonight against the Denver Broncos in Tebow World.
Here are some key matchups for the Jets to win to get back in the right direction to the playoffs:
Mark vs. Mark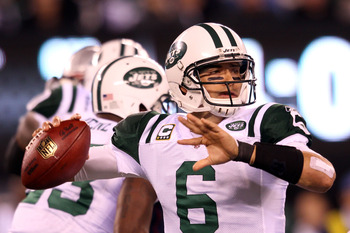 Which Mark Sanchez will come out to play?
Mark has been very inconsistent in his young career. He shows flashes that he can be the franchise of the Jets, but other times he doesn't and makes the fans wonder if he is the future.
Sanchez has to step up on Thursday night and play solid football, or his struggles will doom the Jets and their chances at the playoffs. Stop the rookie mistakes. Don't miss the open receivers—obviously.
Last week against the Patriots, Sanchez threw two interceptions; one returned for a touchdown. He had poor clock management and was missing his targets.He has 12 turnovers in nine games.
One would think that a third-year QB would be more poised in the pocket, but Sanchez looks very uncomfortable. He looks nervous and panics when the pocket breaks down, and he has been making bad decisions under pressure.
Offensive Line vs. Broncos Pass-Rush.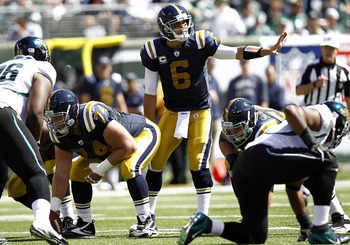 The Jets' offensive line, a unit that is usually their strength, has been very inconsistent this year.
The Patriots had a field day against them on Sunday night—not known for their pass-rush. Especially Carter, who sacked Sanchez four times.
The line has to improve and give Sanchez more time.
The O-Line goes against rookie sack machine Von Miller and an aggressive pass-rushing Broncos defense.They need to be on their game tonight. If they're not, that could mean another miserable night for Sanchez and the offense.
Defensive Line vs. Broncos Run Game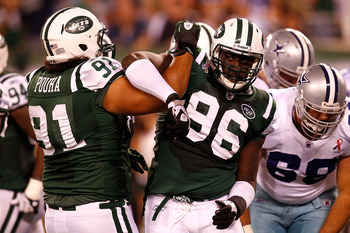 The Broncos aren't a passing team, they are ranked second in rushing offense. Broncos have catered to Tim Tebow's skill set and have employed an option system that has worked well—so far.
The line has to play tough and be ready to get run at several times. They have to beat their man and slow down the running game. Let Tebow try to beat the Jets through the air.
 
Tim Tebow doesn't pass much. Tebow operates out of the shotgun often and runs an option system. So that means the linebackers must think that Tebow and company will more likely run it first.
He'll either fake to a back, throw to a receiver or he'll take off.
The linebackers must be sharp and focused—stick to their assignments and contain.
Tebow doesn't throw much and isn't too accurate, completing only 44 percent of his passes, but the Broncos' unconventional offense can be a killer. If the defense blows an assignment or looks confused, Tebow may look for the big play and throw down field.
He has thrown seven touchdowns and just one interception.
For all the criticism Tim Tebow has received, he's 3-1 since taking over as starting QB. The Jets must not take him lightly.