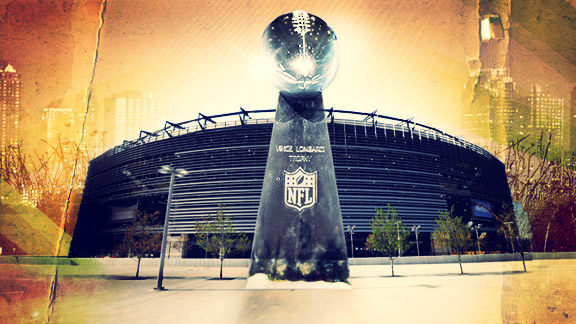 (image via espn.com)
Funny, but with all the attention being given to the NY/NJ bid for the 2014 Superbowl I began to wonder who will even be left from the 2010 Jets roster by then. Four years in the NFL is a long time.
Consider the current roster of players and we find just 11 players who have been with the team for 4 years or longer:
Shawn Ellis, Bryan Thomas, Brandon Moore, Jerricho Cothery, Sione Pouha, Nick Mangold, Kellen Clemens, Eric Smith, Brad Smith, and Drew Coleman.
More than half of those guys were drafted in '06.
So who will still be on the roster in 2014?
When looking over the roster I considered 4 factors: age, talent, contract and durability. This is what I came up with:
Mark Sanchez, Dustin Keller, Nick Mangold, D'Brickashaw Ferguson, Matt Slauson, Vladimir Ducasse, John Conner, Mike Devito, David Harris, James Ihedigbo, Dwight Lowery, Darrelle Revis, Donovan Warren, Jamaal Westerman, Kyle Wilson.
There were some young players with potential that I considered including, like Kenwin Cummings and Kevin Basped, but in the end I didn't think they would last the 4 years.
Shonn Greene and Joe McKnight. I left off mostly because of durability.
A case could be made for Braylon Edwards, but if he re-signs I somehow don't see him being here in 4 years. He's already 27 years old and plays a physical style.
Vernon Gholston is an interesting case. It kind of looks like the writing is on the wall for him after this year, but maybe if he has a good year and re-works his contract he could stick around.
So in the end I went with 15 players. Not bad keeping 1/3 of the roster for another 4 years, but that's still a lot of new faces. Makes me appreciate what we have now.
Anyone you would add to the list? Subtract from the list?