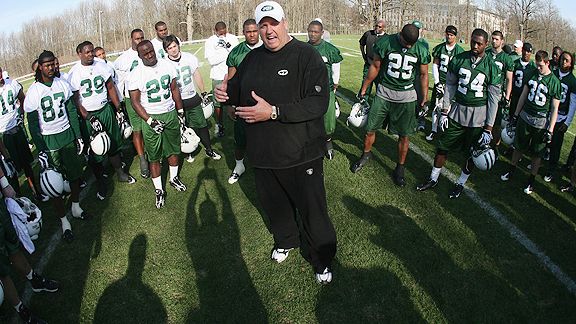 Football Outsiders has posted some amusing NFL quotes from the last couple of months. They've included some quotes relating to the NY Jets as well:
From Rex Ryan:
"I think with him we'll end up first in the league in defense, and without him we'll end up first in the league in defense. If we get him, great. [But] I'm not worried about him; he's not on our team."

-- Jets coach Rex Ryan's thoughts on the team acquiring free-agent linebacker Adalius Thomas. Ryan coached Thomas in Baltimore from 2001 through 2006. (NY Daily News)
Another from Rex Ryan:
"I'll be honest with you. I'm there to whip somebody's ass. So it doesn't matter who's there, who's not there, whatever. I would love to have our stadium full and the fans going crazy and supporting us. That's what you want. I feel it. We felt the energy from those fans."

-- Jets coach Rex Ryan on the prospect of the Jets not selling all of their Personal Seat Licenses. (NY Daily News)


Regarding Darelle Revis:
"Revis is one of the best cover guys in the NFL right now. The whole point is I want the same type of coverage when it comes to giving the news and letting his following know what's going on. It's going to be interesting."

-- Bengals wide receiver Chad Ochocinco on Jets defensive back Darrelle Revis being hired by the Ochocinco News Network (or OCNN). (The Huddle)
From Woody Johnson:
"I'm not going to speculate. I think we're going to make it."

-- Jets owner Woody Johnson pulling out his inner Rex Ryan when asked if he would be disappointed if the Jets didn't make the Super Bowl. (ESPN New York) 
From LaDainian Tomlinson
"No In-N-Out Burger, but a lot of great pizza."

-- Recent New York Jet signee LaDainian Tomlinson on the differences between San Diego and New York. (ESPN New York)
Which quotes do you find the most amusing? Have you heard or read of any other interesting quotes? Post them in the comments section.