After doing a mock draft for the entire NFL first round, I've decided to do a mock draft for all six of the Jets' picks. The Jets currently don't have any major needs this upcoming season, but where they could use help is a third wide receiver, another pass-rusher alongside Shaun Ellis, a third running back, another safety to compete with Brodney Pool to play safety with Jim Leonhard, maybe a kicker, and possibly some offensive linemen for the future. Here are my predictions for the Jets' picks this draft:
Round 1, Pick 29 (29) - DL Jared Odrick, Penn State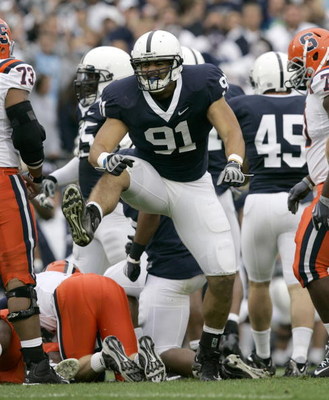 Initially, I thought one of the Jets' biggest needs was another receiving threat, but the Jets are reportedly content with Braylon Edwards, Jerricho Cotchery, David Clowney, and Brad Smith. Plus, with up-and-coming stud Dustin Keller, the Jets need at receiver isn't an immediate one. A pass-rusher seems to be the most apparent need.
   Odrick is a big and powerful pass-rusher who is 6' 5" and weighs in at 304 lbs. He has shown the ability to collapse the pocket with his pure strength. However, he has yet to show he can shed blockers easily and his speed is average for an end. But again, he is very powerful and can explode past lineman using his size and strength. Additionally, he is said to have a great work ethic and effort. Odrick was asked what teams would get from him, if they chose to draft him. "You're gonna get a hard worker out of me. Somebody who is going to fight for a starting spot and earn respect. That's what you're going to get when you're dealing with Jared Odrick." This is an attitude I'm sure Rex Ryan will love and maybe he decides on picking him, assuming he's still there at 29.
Round 2, Pick 29 (61) - WR Damian Williams, USC
   Former USC Trojan and Mark Sanchez target Damian Williams will very likely be a second day draft pick. Williams led the Trojans in receptions the past two seasons. His style of play fits perfectly with Brian Schottenheimer's schemes; when he played at USC, he was used in many screen plays because of his speed and solid hands. He stands at 6' 1", a good side for a receiver, and his speed at that height increases his value. His athleticism is great and if he drops, the Jets shouldn't have to think twice about selecting him. He's a familiar target to Sanchez and is very effective as both a screen receiver and a slot receiver. He'd certainly be an upgrade from Clowney. Personally, I think the Jets should do what they need to, in order to draft him.
Round 3, No Pick
Round 4, Pick 26 (124) - FS Kam Chancellor, Virginia Tech
   The Jets will be looking for a free safety to compete with Brodney Pool, who is injury-prone, and Eric Smith, who is a very good special-teamer and nickel-package safety. Kam Chancellor has great size (6' 3" and 231 lbs) and strength (22 bench reps). The Hokie has been productive while remaining healthy throughout his collegiate career. He grew up watching and trying to emulate former Redskins' safety Sean Taylor. When asked about his ability and what Taylor meant to him, he responded, "[He was a] big safety, the prototype guy for the position. I'm a big safety, too, and I've just always wanted to be just like him. I don't necessarily say I can be Sean Taylor before it's over, but I think I can be just as good." I like his attitude and Coach Ryan might think so as well. He also has been deemed a box safety because he is great at tackling and getting to the running back. He plays extremely hard and gives it everything out on the gridiron.
 Round 5, Pick 24 (155) - OT Kyle Calloway, Iowa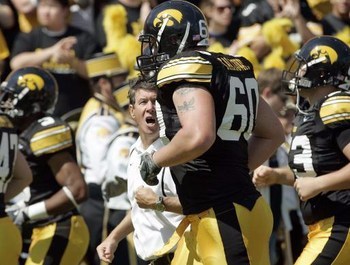 There is a saying that all Iowa linemen are NFL ready. I take no exception to tackle Kyle Calloway. Calloway is a big big man at 6' 6" 323 lbs who has played left guard, left tackle, and right tackle for the Hawkeyes. And while his position kept changing, he remained consistent and has been considered a solid starter for years to come. As a matter of fact, he has drawn comparison to Cowboys' tackle Marc Colombo; he stays low and steady when pass blocking and physical while thrusting his hands at defenders when run blocking. He has all the tools to be a starter at the pro level, and in case Jet fans have forgotten, he helped block for Shonn Greene when he ran for 1,850 yards on 307 attempts (6.0 yards per carry) and 20 TDs. He would be in position to replace Damien Woody when the time comes in a few years.
Round 6, Pick 29 (198) - RB Conte Cuttino, Stony Brook
   The Jets have already expressed their interest in Conte Cuttino. The Jets believe he could be a possible replacement for Leon Washington, especially since Leon apparently wants out. He has explosive speed and if you checked out the link above, you can see what a freak of an athlete this kid is. Cuttino broke the Stony Brook record for career rushing yards with 3,607 yards. In addition to his break-away speed, he can catch out of the backfield. Over his last 2 years at Stony Brook, he totaled 22 receptions for 205 yards and a touchdown. He has the athleticism to be a great change-of-pace back for the Jets behind Shonn Greene and LaDainian Tomlinson.
Round 7, Pick 29 (236) - K Leigh Tiffin, Alabama
   Personally, I don't know how comfortable I feel with Nick Folk as our kicker; just last season with Dallas, he was released due to only kicking 64.3% (18/28) of footballs through the uprights. Leigh Tiffin reminds me a little of ex-Jet Jay Feely. Tiffin showed he could kick under pressure and did so in the National Championship game. In his first ever game as a freshman, he kicked the game-winning overtime field goal to give 'Bama the 13-10 win over Vanderbilt. Another little known fact: Tiffin is Alabama's all-time leading scorer with 350 points. Also, last year he led the Crimson Tide with 132 points (Mark Ingram came in 2nd with 120). Also, he has shown he can be tough and can actually tackle in the open field. He works hard and is an accurate kicker (87.9% in 2009). He has little downside and would fall to the late rounds, but just because he is a kicker. Plus, he'd be a much younger option than Neil Rackers or Matt Stover.
   There are my predictions for the Jets come April 22nd. As always, feel free to express your own opinion and make your own suggestions and predictions. In my opinion, I would like to see the Jets draft along these lines.